The Follow Your Dream Foundation – Australia (TFYDF-A)
Lions Clubs International
The objectives are:
To support disadvantaged children and women here in Australia, particularly in the areas of education, health and hardship.
To assist other NOT FOR PROFIT Organisations who implement programs to meet the above objective of assisting disadvantaged women and children.
In appreciation :
Thank you for your support of A$500 or more, for which you will be presented with an inscribed,
"The Follow Your Dream Foundation – Australia FELLOWSHIP AWARD" Crystal Plaque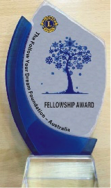 "The Follow Your Dream Foundation – Australia" is to provide financial assistance for educational opportunities to disadvantaged students to enable them to achieve their full potential and in turn to give back to the Community.
Women, in a lot of societies, are disadvantaged and have no family support or financial assistance available to them.
Through "The Follow Your Dream Foundation – Australia" we will be able to provide support in several ways; such as micro financing, by providing small loans for women, thus enabling  them to set up a business to start earning an income to support themselves and their family.
Another is to donate treadle sewing machines to enable these women to sew clothing; to mend clothing.
Yet another is to provide a goat to milk as both food and for an income.
The goat, in time, will be joined and the new born will be given back to the person who provided the goat in the first place.
NOTE:  In most cases, goats will drop twins…and in some cases triplets!
Using the Goat Project a village can literally go from "poor to rich" in a very short time.
We have contacts in all these areas (and many more) who are prepared to help the children and the women. Through LIONS around the world we have a network of Foundations who shall partner with us to make a difference.
We also have several other Foundations who are ready to partner with us.
Through Lions we have the network around the world that can make this happen.
For more information, please contact: 
Secretary General Lion Pearl Lin JP: +61 425 321 668